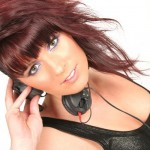 Digitally Imported radio, the biggest online trance radio will be airing the 83d episode of Jordan Waeles' Trance Mutation Broadcast show.
2 hours of the best progressive and trance music...
This month's guest is Orla Feeney (http://www.myspace.com/orlafeeneymusic ), ever rising DJ and producer from Ireland. Her hit single "Comic Strip" has been hammered by Paul Van Dyk and many more DJ's across the world. She'll be bringing us an exciting set full of fresh and exclusive driving trance tunes!
Expect the most uplifting tunes alongside the best of progressive and tech-trance, selected and tightly mixed by Jordan Waeles and his guest Orla Feeney!
Start time: 2 PM US Eastern / 7PM UK / 20:00 Central Europe, on the Trance channel.
http://www.di.fm/trance
Exact start time for your country: http://bit.ly/jwtmb83
More information: http://www.jordanwaeles.com/