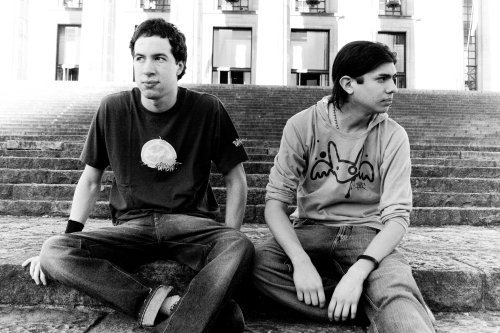 Hailing from Argentina, the Heatbeat trance duo have gained a great popularity over the past few years. With hits such as "Paradise Garage", "Trash" and "Because of You" they have established a reputation of quality, which got them booked for Armin van Buuren's event ASOT 500 in Buenos Aires. Catch their exclusive guestmix in Trance Mutation Broadcast!
About Trance Mutation Broadcast
Back in 2005, Jordan Waeles started mixing uplifting trance on the air of NRJ Belgium (national FM station), at first filling in for other unavailable residents of Extravadance, then with a monthly slot on his own. Trance Mutation Broadcast was born. Across the years, the show has been syndicated on Saffier/LRK (Dutch local FM stations) and many more online and FM stations.
Eventually, in 2009, Jordan moved Trance Mutation Broadcast to the biggest online trance radio station, Digitally Imported, in a brand-new two-hour format. This tactical move gave Jordan the opportunity to feature amazing guests such as Suzy Solar, Orla Feeney, Airwave, the Immoral Monkeys, Ferry Tayle, and many, many more headliners and upcoming trance DJ's and producers.
Playlist
Jordan Waeles presents Trance Mutation Broadcast #084
Guests Heatbeat
February 2011
1st hour: Jordan Waeles
01. SAN – Far from in Between (Wellenrausch remix)
02. Jective – Icaria (Original mix) [SIlent Shore Deep]
03. John O'Callaghan & Timmy & Tommy – Talk To Me (Original mix)
04. Woody van Eyden & Rapid Sense – Drop box (Original mix)
05. Michael Splint vs Facade – Isolated Together (Stadium Mix)
06. Den Rize & Mark Andrez – Naiad (Original mix)
07. Nitrous Oxide feat Aneym – Far Away (Club mix)
08. Raneem Emdee – Atrameez (Paul Miller vs Ronald de Foe remix)
09. Running Man pres Fifth Dimension – Open Your Eyes (Original mix)
10. Orinoko & Thrillseekers – Island (Indecent Noise Aero Remake)
11. RAM – RAMazing (Original mix)
http://www.uplifting.be
http://www.facebook.com/jordanwaeles
2d hour: Heatbeat
01. Exit – San Salvador (Kent and Gian mix)
02. Judge Jules – The Greater Good (Marcus Schossow mix)
03. Russo – Digital Boy Analog Girl
04. Heatbeat – Trash
05. Heatbeat feat. Jeza – Light up (Rough mix)
06. Orjan Nilsen – Pale Memories
07. Giuseppe Ottaviani feat. Emma Lock – Ready (Sied van riel mix)
08. lsg – netherworld (Oliver Prime mix)
09. Heatbeat – Eternity (Tom Colontonio mix)
10. Ilya Sololiev – Mercury (original mix)
11. Solid Globe – North Pole (Giuseppe ottaviani mix)
---