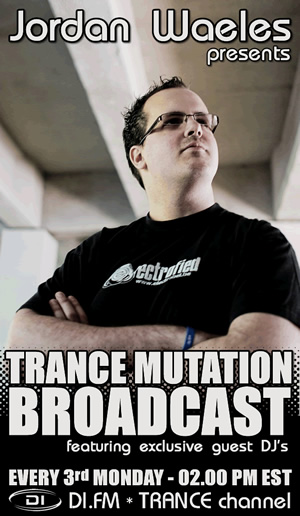 This is a balanced set, with some more progressive parts and some highly-uplifting material, mixed by Jordan Waeles.
About Trance Mutation Broadcast
Back in 2005, Jordan Waeles started mixing uplifting trance on the air of NRJ Belgium (national FM station), at first filling in for other unavailable residents of Extravadance, then with a monthly slot on his own. Trance Mutation Broadcast was born. Across the years, the show has been syndicated on Saffier/LRK (Dutch local FM stations) and many more online and FM stations.
Eventually, in 2009, Jordan moved Trance Mutation Broadcast to the biggest online trance radio station, Digitally Imported, in a brand-new two-hour format. This tactical move gave Jordan the opportunity to feature amazing guests such as Suzy Solar, Orla Feeney, Airwave, the Immoral Monkeys, Ferry Tayle, and many, many more headliners and upcoming trance DJ's and producers.
Playlist
01. Automa – Frames of Life (Seraphic remix)
02. Smith & Pledger – Black
03. Vincent de Moor – Mystique Colors
04. ATB & Heather Nova – Renegade (Ronski Speed remix)
05. Markus Schulz & Departure with Gabriel & Dresden – Without You Near (Alex Morph remix)
06. Robert Miles – Children remixed by DJ Tatana
07. Force Majeure – Out of my mind (Blake Jarrell & Jeff Devas vocal mix)
08. Daniel Kandi – Breathe (Sunny Lax remix)
09. Signum – Hit that note
10. Sublunar feat Aya – Kojo no tsuki (Ami mix).
---