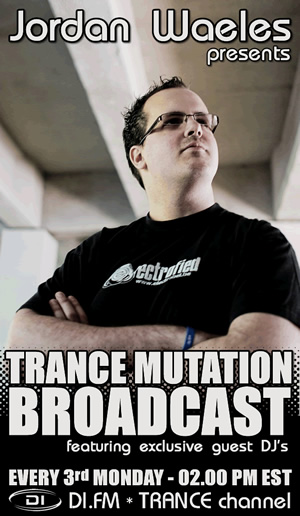 Due to personal reasons, Rob van Holland stops energy for some time. It will be back later. Although its hosting show will be shut down, TMB may be back on FM soon... stay tuned ! For this ( temporarily- ) last edition of Energy, I prepared a phatt set with my favourite tracks ! Enjoy.
About Trance Mutation Broadcast
Back in 2005, Jordan Waeles started mixing uplifting trance on the air of NRJ Belgium (national FM station), at first filling in for other unavailable residents of Extravadance, then with a monthly slot on his own. Trance Mutation Broadcast was born. Across the years, the show has been syndicated on Saffier/LRK (Dutch local FM stations) and many more online and FM stations.
Eventually, in 2009, Jordan moved Trance Mutation Broadcast to the biggest online trance radio station, Digitally Imported, in a brand-new two-hour format. This tactical move gave Jordan the opportunity to feature amazing guests such as Suzy Solar, Orla Feeney, Airwave, the Immoral Monkeys, Ferry Tayle, and many, many more headliners and upcoming trance DJ's and producers.
Playlist
01. nick glamour – freshness
02. electrokiss – the teacher (timofey remix)
03. marcel woods – advanced
04. switch – a bit patchy
05. relocate – rogue
06. yanave pres. evanya – las perillas
07. da hool – meet her at the love parade (tom hafman remix)
08. mojado – el matador
09. relocate – remorse
10. randy katana – pleasure island
11. randy katana – play it loud
12. pervading call two – on my mind (x900 mix)
13. ecraig vs ratty – call it a sunrise (212 pm mix)
---