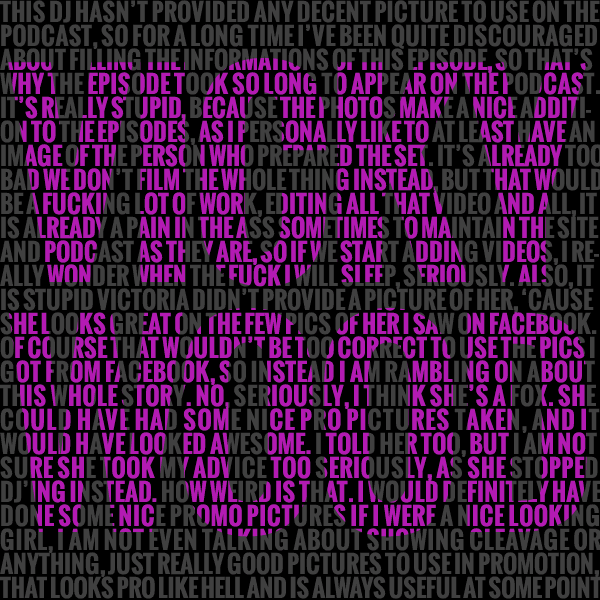 This month's guest will be Victoria ( http://www.facebook.com/vickywoodmusic ), an amazing DJ from the UK who has been constantly delivering great mixes and mashups on the biggest trance radios!
About Trance Mutation Broadcast
Back in 2005, Jordan Waeles started mixing uplifting trance on the air of NRJ Belgium (national FM station), at first filling in for other unavailable residents of Extravadance, then with a monthly slot on his own. Trance Mutation Broadcast was born. Across the years, the show has been syndicated on Saffier/LRK (Dutch local FM stations) and many more online and FM stations.
Eventually, in 2009, Jordan moved Trance Mutation Broadcast to the biggest online trance radio station, Digitally Imported, in a brand-new two-hour format. This tactical move gave Jordan the opportunity to feature amazing guests such as Suzy Solar, Orla Feeney, Airwave, the Immoral Monkeys, Ferry Tayle, and many, many more headliners and upcoming trance DJ's and producers.
Playlist
Jordan Waeles presents Trance Mutation Broadcast #095
Guest Victoria
January 2012
1st hour: Jordan Waeles
01. Ost & Meyer – Scarlet Heaven (Dan Stone remix)
02. Kaimo Kerge – For what it's worth (Originak mix) [Silent Shore]
03. Joseph Areas – For An Instant (Original mix)
04. Steve Bengaln & Daniel Meyer – Illumination Phase 2 (Original mix)
05. Rick Harmony vs Stephen McConachie – Axiom (Original mix)
06. Seth Hutton feat Judie Tzuke – Don't Look Behind You (Sami Saari dub remix)
07. Bryn Whiting – Never Coming Down (Original mix)
08. Leon Bolier – War of the Worlds (Hodel remix)
09. John Merki – Second Chances (Brian Flinn remix) [Solid Black recordings]
10. Matt Bowdidge – Slip Back (Original mix)
11. Billy Gillies – Luminous (Original mix)
12. Cylum, Velden & First Effect feat Irena Love – When she smiles (Jordan Waeles remix) [Silent Shore]
http://www.uplifting.be
http://www.facebook.com/jordanwaeles
2d hour: Victoria aka Vicky Wood
01. Orkidea – Unity (Solarstone's Pure Mix)
02. Simon O'Shine – Tears Of Memories (Original Mix)
03. Ronski Speed feat Renee Stahl – Out Of Control (Daniel Kandi Remix)
04. Ozo Effy – Endless World (Original Mix)
05. Dayzanst – Double Bind (Original Mix)
06. TrancEye – Suffering (Deep In My Heart) (Original Mix)
07. Airbase – Medusa (Original Mix)
08. Faruk Sabanci & Ken Loi – Eastern Thrace (Arctic Moon Remix)
09. DJ Eco – Lost Angeles (Breakfast Remix)
---